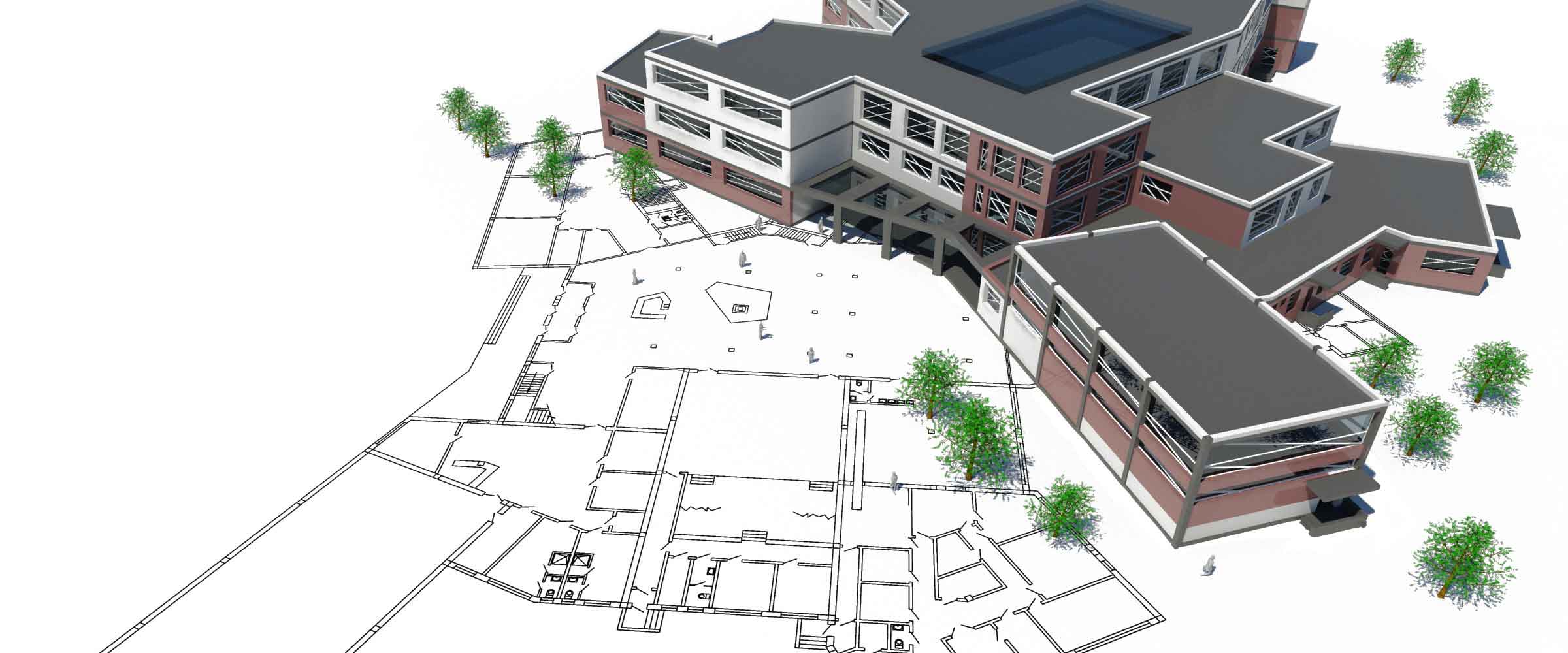 7D BIM services for programming, record modeling, maintenance scheduling, asset management
Energy usage is expensive, and it also has staggering consequences for the environment and surrounding ecosystems.
BIM 7D: Facility Management Applications
The seventh dimension (7D) is the highest level for BIM. It lets you take on the management phase of everything you've achieved with the previous six levels. In other words, 7D is available to help you design an informative 3D model of the building being constructed and every detail in-between. For ongoing facility management, it's also invaluable since it gives you a full picture of what needs doing long after construction is completed.
For smooth-running maintenance, knowing information about warranties is going to become imperative. Rather than have to keep a physical file of hundreds of warranties in your office, BIM software keeps this information for you. Again, you see how comprehensive BIM platforms are working at the 7D level. Being able to tap into warranty data easily (including through a mobile device) helps you save money on repairs. This goes for building materials as well as separate equipment.
BIM for asset management
The assets that you manage through BIM modeling is entirely up to you. You may want to go with larger systems, such as HVAC, or you may want to include some of the various machinery as well. Once you identify the various assets and where they are located, they can be incorporated into the BIM models. The benefit of this is that you can then share the models with facility managers, the finance department, and anyone else who may be in charge of managing the various assets, inventorying them, or generally accounting for them. BIM software can be complicated, which is why it can be beneficial to outsource. You can then tap into the knowledge of an expert third party.
The whole idea behind the renovation is to make improvements. Using BIM will make it easier for contractors to show exactly what the building is going to look like after the renovation is done, though before any work has actually begun. This can make it easier to gain approval and to ensure that everyone is on the same page in terms of what the aesthetics will be once the project is completed.
The Need for Sustainability
Even though the process of BIM increases in complexity and price as you rise through its five dimensions, investing in 7D BIM before your structure loses money to inefficient processes will generate a large ROI.
It might sound overwhelming to think of your building's entire life cycle. Even so, it's essential if you plan to stay in the same building for many years. Using 7D BIM technology, you'll be able to manage operation and maintenance on through to when you might sell or tear the building down. One element involved here is designing a "as-built" model where you include what's been designed, but also what's being built. This is your first stage in being able to have data in your BIM program for future facility management. The goal is to have numerous pieces of data available so you can easily extract and track relevant data assets when needed.
Variations
In the early stages of constructing your facility, BIM software is going to come in handy if you end up having more variations in construction than you planned. When you work with an expert company offering BIM support, they'll be able to add things to the software as you construct the building. Storing data on the state of the object being built allows you to have a digital record of things you're adding to the building as you go along. Things don't always go as planned when construction is underway. Issues like geometric and operational conflicts could occur, making your BIM platform all the more valuable. Down the road, it's going to help bring an easier way to deal with maintenance.
Technical Specification
BIM software is able to add more than just technical information about what you've built. You can also add other information about technologies you've integrated into the facility, or tech brought in after the building opens. Adding various components and technical specifications will make your facility manager role run more efficiently. It's also going to help your maintenance crew when doing repair work. Having exact technical specs available to help with remodeling projects or fixing specific on-site equipment reduces any chance of downtime.
To further improve how you do maintenance, your BIM software adds in maintenance scheduling to avoid errors when servicing needs done. If you're new to adding in details like this, an expert BIM team will do it for you. Using this helps send reminders about what needs maintenance to avoid unexpected mechanical failures or even structural problems.
Let's get you started
Propel your firm to the next level of BIM